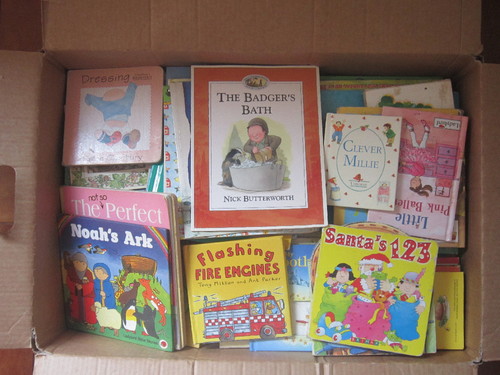 Ahlberg, Allan and Jane, The Baby's Catalogue
Ainsworth, Alison, The emperor and the nightingale
Amery, Heather & Cartwright, Stephen, Farm Animal Jigsaw Book
Amery, Heather & Cartwright, Stephen, Suprise Visitors
Awdry, Ver. W., thomas & friends, Edward and the party
Barklem, Jill, Summer Story
Baxter, Nicola, The not so The Perfect Princess
Baxter, Nicola, My tooth fairy book
Bennett, David, Whose home?
Brimax Publishing, Santa's 123
Brisley, Joyce Lankester, Milly-Molly-Mandy Stories
Bruna, Dick, Miffy goes flying
Burningham, John, Mr. Gumpy's Outing
Butterworth, Nick, The Badger's Bath
Campbell, Rod, Dear Zoo
Campbell, Rod, Dear Zoo
Campbell, Rod, Dear Zoo
Carle, Eric, The very hungry caterpillar
Chadd, Rachel Warren, The ghost who has scared of the dark
Classic Books, There was na old lady who swallowed a fly
Coxon, Michele, The cat who Lost His Purr
Crossley, David, My first 200 words sticker book
Cunliffe, John, The New Adventures of Postman Pat
Daly, Audrey, Favourite poems
Dan, Colin, Farthing Wood Babies
Dean, Thomas and the Weather
Disney, Toy Story
Disney, The Jungle Book
Disney, Winnie the Pooh and Tigger too
Fisher, Jayne, Oliver Onion
Garland, Sarah, Sam's Cat
Garner, Alan, The Little Red Hen
Girassol, Animais e suas crias (puzzles)
Greeley, Valerie, Animals at home
Guin, Ursula K. Le, A Visit from dr. Katz
Hale, Irina, Baby Giant and the Broken Toys
Hawthorn, Philip, Clever Millie
Lee, Alex, Smart Snake
Kipling, Rudyard, The Jungle Book
Ladybird Children's Classics, Peter Pan
Ladybird Books, We like to help
Lamblin, Christian, Os pais da Lara separam-se
Lee, Rob, Fireman Sam
Milne, A. A., Winnie-the-Pooh. Piglet is Rescued
Milne, A. A., Winnie-the-Pooh. Down Up Opposites
Milne, A. A., Winnie-the-Pooh. A New House for Eeyore
Mitton, Tony, Parker, Alan, Flashing Fire Engines
Murdock, Hy, Noah's Ark
Murphy, Jill, All in One Piece
Oldfield, Jenny, Home farm Friends
Oldfield, Jenny, Home farm Friends
Oxenbury, Helen, Dressing
Pienkowski, Jan, Zoo
Potter, Beatrix, The Tale of two bad mice
Potter, Beatrix, The tailor of gloucester
Randall, Ronne, Little Pink Ballerina
Rawson, Christopher, Wizards
Rosen, Michael, Little Rabbit Foo Foo
Rosoman, Julie, From the pink foot to the family Toe
Sewell, Anna, Black Beauty
Southgate, Vera, Dick Whittington and His cat
Stott, Jennet, Olivia's alarm adventure
Stott, Jennet, Tiffany's School Trip
Stanley, Mandy, How do you feel?
Sheringham, Sally, Clifford the Sheep
Smith, Alexander McCall, the Perfect Hamburger
Smith, Jan, Hickory Dickory Dock
Talbot, John, Hasn't he Grown!
Watt, Fiona, that's not my bear
Subtotal de livros da lista - 69
Total de livros doados - 267 
Cooperação da APVN com o grupo do Facebook:
Livros para Poiares
(https://www.facebook.com/groups/livrosparapoiares/)